We're still having some glitches with the shopping cart so the opening has been pushed back a bit. Again. I can't wait until we're just up and running! At least I know it will be worth it, since the new set up will make shopping SO much easier. You will have up to the minute listings of my ribbon patterns in stock, and quite a few new styles to choose from. Just be sure you are on our mailing list (see link on the right ---->) and you'll be among the first to know when we're live!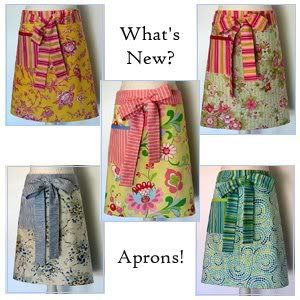 In the meantime, check out these
adorable aprons
from Carrie at Sommer Designs that I've been jonesing for lately. She has a great eye for fun fabric choices and her bag construction is just impeccable.
Mr. Cupcake is usually pretty good about picking up on hints I drop... Let's put this to the test.
I think the Wonderland style is so me, don't you hon?!