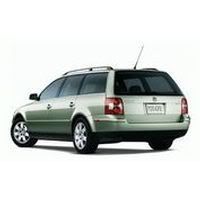 My Dearest Helga,
Why must you be so
spatially
efficient? Why must you drive like a sleek car, and not the Soccer Mom Mobile that you appear to be. Your heated seats warming my buns in cold Northeast winters; your strong air conditioner cooling those very same buns in dreadful Texas summers. So strong and reliable. So German.
But today, sadly, I wish I didn't love you so.
We both know there has been some whistling. Some chirping that sounds like a cricket is stuck in your dashboard. I accidentally allowed your washer fluid reserves to get a little low, as you kindly remind me every 15 minutes with that charmingly shrill beep. But you knew I'd take care of you.

Helga, let me ask you something -- why is it that I am unable to take you to the mechanic to find out about that funny, whistling, chirping noise you've been making and discover that is a quick, $25 thing to fix. Why, oh why must it be some $1200, 2-day ordeal? Maybe it's just some bad PMS you're dealing with -- it's OK -- you can tell me.

Of course we'll have them fix you up like you've had an afternoon at Bliss -- even though it now means that my own Bliss massage/facial enjoyment will have to wait. Deep down, I still believe the sound is just you, telling me that you love me too.