Sewing... and sewing... and sewing...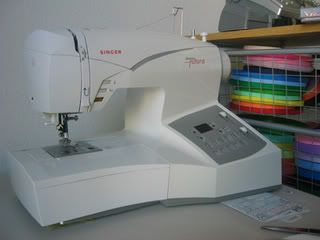 The only daylight I've seen in the past 5 days has been through my window, which I conveniently face away from while at The Beast. It's my own fault, really, since I grossly
miscalculated the pacing of my To Do list for this weekend's show inventory and now find myself a full 4 DAYS behind schedule. Since we have to set up Friday afternoon, that pretty much leaves 2 more days to pump out 6 days worth of work. I wish myself Godspeed.
Truthfully, it is weeks like this that I wonder why I have my own business when I could very "easily" go back to a traditional 9-to-5 job (note: please don't think that
I
think those of you reading with said jobs have it any easier/harder than those of us who take a more non-traditional path. I've been there -- it's not). But come Saturday afternoon or, better yet, Sunday around 7pm when we start to pack up and head home I'll be reminded of why I started The Creative Cupcake. Watching people enjoy my colorful, pretty things, meeting new customers and catching up with our "regulars", and noshing on lots of terrible, fried fair food is worth every sunless minute.