Sometimes when creativity hits, I guess you just have to go with it and not question. No doubt my blissful San Diego trip has something to do with my state of mind. Today was a busy day and I got a lot accomplished, which continues my particularly productive week.
Here is the fabric initial letter I talked about yesterday: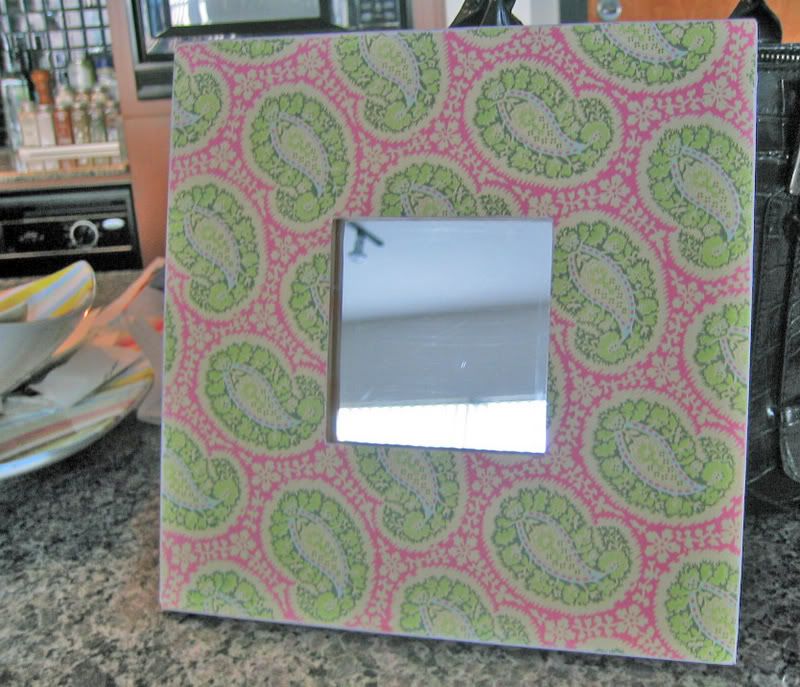 I'm not as crazy about this one, even though the font is kind of quirky, but I think it's because of my fabric choice. Right along side it is a pink and green paisley mirror I made and I am IN LOVE! I still need to apply the acrylic sealer to it but it came out even better than I expected, though the picture doesn't quite do it justice. The edges were done with a pink/fuschia pattern that you can't really see at this angle. Crafting is so addictive, I can't wait to see what I do tomorrow!
Tomorrow I should be able to share my last initial (for now--I can't stop!) as long as I can hunt down the right copper colored ribbon.
Over the past month or so I've been spending bits of time re-organizing my studio. I realized I just have WAY too many ribbons. Seriously, I can't even begin to explain the tens of thousands of yards that don't even have the decency to chip in for their share of our rent! So because of that I'm going to be discontinuing some of my patterns (don't worry, there are more fabulous ones on the way for Fall). Bring in my
Etsy Store
, which I've generally used to sell some of my materials overstock. Today I listed
a few sets of headbands
(from 2 to 4 per set), all at 25% off what they are usually listed for on the site.
Oh, yes, and I re-did my entire site design! Stop by and
check it out
when you have a chance. There are still a few minor things I need to work on, but I got the bulk of it done today. When we installed a new shopping cart system last year, I wasn't crazy with the final design. I loved the logo/color scheme and Eva's new preppier outfit but I knew what our limitations were at that point so I tried to learn to love it. That never quite happened. There may be slight tweaks here and there, since I'm sort of learning along with the update process, but I feel 100% better about how it looks today.
I'd love to hear what you think -- what you like, what you don't, what can make it more user friendly: easier to navigate, find what you are looking for, etc.