Watching
:
Rachel Maddow
Her commentary last night on equating the absurdly long voting lines to the long-ago abolished polling tax was fantastic. Plus I admire how she manages to come across as being genuine while still being super snarky.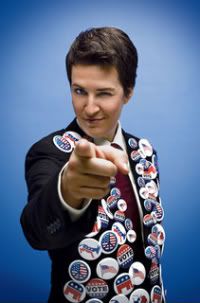 Missing
:
Smedley the Pumpkin
Even though Halloween is over, I had to pay homage to Smedley, Mr. Cupcake's pumpkin masterpiece. I think it's the faux hawk that really makes me laugh.
Packing for
:
San Diego
We are both in desperate need of a vacation and spending 8 days wandering around our very favorite place in the country will do us some good. Getting to check bags for free and eat a meal with real silverware in First Class will do us even better!

Neglecting no longer
:
This blog!
Writing my blog has been one of the most fun parts of running The Creative Cupcake. Life has happened, as it usually does, and I haven't had as much time and energy to keep up with posting as I would like lately and hopefully that will be changing very soon. Recipes, crafts and life's funny anecdotes are all bottled up and need to be shared!