I haven't had the chance to update lately because of both terribly interesting and absurdly boring life-nonsense. In the midst of all of the kerfuffle, I managed to glitter some pumpkins and turn yet another year older. Technically, much like
last year
, I celebrated the 3rd Anniversary of my 25th Birthday. Even my cake played along: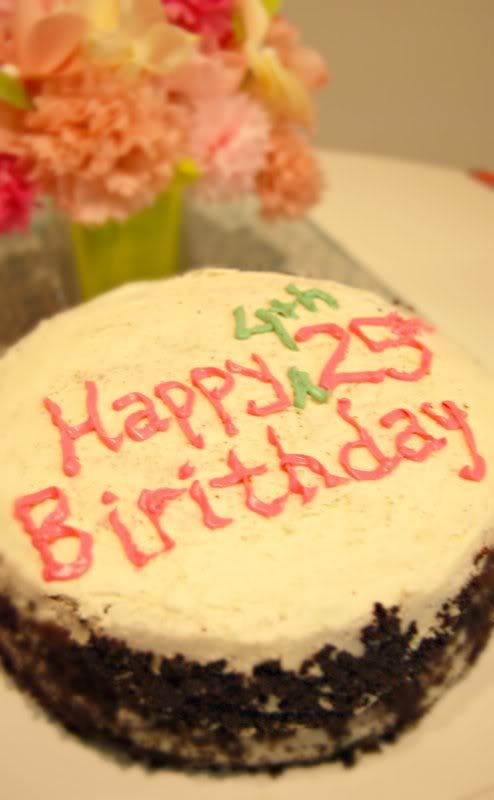 The celebration itself was quiet and low key since I haven't been in much of a celebratory mood lately. I cooked my own birthday dinner: Salmon with lemon dill sauce, roasted asparagus and fingerling potatoes. Easy-peasy and SO tasty! I also baked my own (really, really, really yummy) Cookies & Cream cake. Not only was it my own favorite birthday cake, and I've had several fabulous ones from the
Cupcake Cafe
, but Mr. Cupcake claimed it was the best cake he's ever eaten. And that man has eaten an awful lot of cake in his day! It was a Devil's Food cake with a Vanilla Bean frosting, which I think was the most delicious part. It had the consistency and spread-ability of the frosting in a can, but without all of those stabilizers and preservatives. I can't remember where I originally got the recipe from, but I urge you to try it next time you bake. Heck, I wish I had a bowl of it right now!
Vanilla Bean Frosting
4 oz (1/2 brick) cream cheese, at room temp
1 stick butter, at room temp
16 oz (1 box) confectioners' sugar
1 tsp vanilla extract
1 vanilla bean, split and scraped
1. Combine butter and cream cheese.
2. Slowly add sugar, 1/2 cup at a time, until smooth.
3. Add vanilla beans and extract, stir until combined.
Notes: (1) A hand mixer should work just as well as a stand mixer. (2) If you don't have a vanilla bean, you can add an additional teaspoon of vanilla extract. (3) This recipe makes enough for 12 cupcakes. If frosting a large (9"+) layered cake, you may want to double the recipe. I made a 10" cake and had to keep the filling quite thin in order to have enough to barely cover the top and outside. I cheated and just added cake crumbs to the sides to cover the super thin layer.