For some reason, I am having a hard time believing that I will be the proud leasee of a brand new apartment in Dallas in just 5 days. 5 more days! I keep waiting for it all to sink in, but my brain is having none of it. Maybe I really am a Jersey Girl at heart (minus the big hair, save for a few years that began with what I kindly refer to as The Great Dippity-Do Gel Crisis of 1992). Even though our years spent living in Philadelphia felt more like home to us than New York ever did, there is something so oddly comforting about spending time in the area you grew up. Nostalgia is a crazy thing.
I'm spending today running last minute errands and getting most of our miscellaneous things we're not taking on the plane packed up to ship out. It really is amazing what two people can accumulate in just a month! My favorite little thing, by FAR, is my new
studio/office companion
: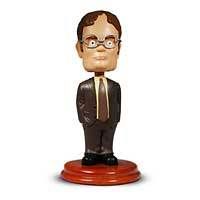 In what I can only imagine would be the immortal words of Comic Book Guy,
"Best... Bobblehead... Ever."
Viva La Office!!